Cheapest VPS in the world | Time4VPS
Did you know that there is a virtual private server (VPS) that you can rent for 1.99EUR (about $2) per month?
It is Time4VPS provided by a Lithuanian company.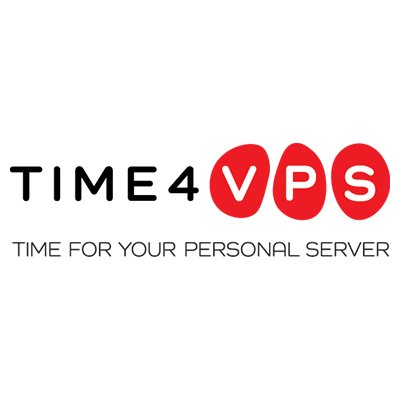 With well-known VPS services, even the cheapest plan usually costs about $10 per month.
With Time4VPS, you can rent a server for a month for about the price of a bottle of juice.
Time4VPS offers comparable features at a lower cost and would be a great option.
I actually use Time4VPS and this blog is also running on a rented server rented by Time4VPS.
In this article, I would like to introduce 6 reasons why you should use Time4VPS.
Reason 1: Low monthly price (from 1.99 EUR/month for the minimum configuration plan)
The best part is the price.
You can rent a VPS for as little as 1.99 EUR (about $2) per month.
This is about the price of a bottle of juice.
The minimum configuration is the "XS Plan" or "Linux 2 Plan" or "C2 Plan" with the following specifications.
CPU: 1 x 2.40 GHz
RAM: 2 GB
HDD: 20 GB (100 IOPS)
Bandwidth: 1 TB
Port speed: 100 Mbps
Backups: Daily, Weekly
Virtualization: OpenVZ
You can choose the renewal interval (payment period) from "Monthly", "Quarterly", "Semi-Annually", "Annually", and "Biennially", and you can rent for about 0.99 EUR (about $1) per month for 2 years at a time.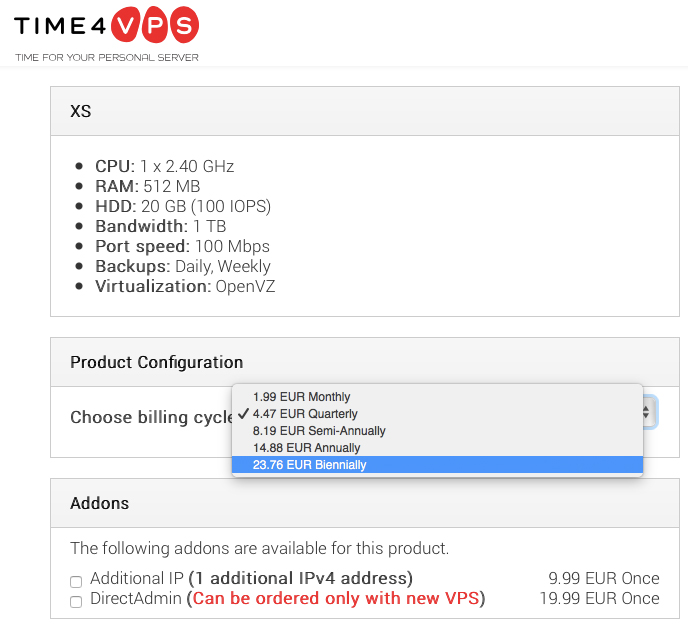 | | | | |
| --- | --- | --- | --- |
| Update interval | Price (EUR) | Price (USD) | Monthly Price (USD) |
| Monthly | 1.99EUR | $2.2 | $2.2 |
| Quarterly | 4.47EUR | $4.9 | $1.6 |
| Semi-Annually | 8.19EUR | $9.0 | $1.5 |
| Annually | 14.88EUR | $16.4 | $1.37 |
| Biennially | 23.76EUR | $26.1 | $1.08 |
Calculated at 1 EUR = 1.1 USD
Campaigns change quite frequently, so the price and server specs may vary slightly, but there is no doubt that Time4VPS is in the lowest price range in the world.
Reason 2: Plenty of plans to choose from.
From "XS" to "XL," there are plenty of plans to choose from.
There are probably more than clothing sizes.
You can choose according to your purpose of use.
If you just want to try it out for the time being or blog with WordPress, the "XS plan" will be enough.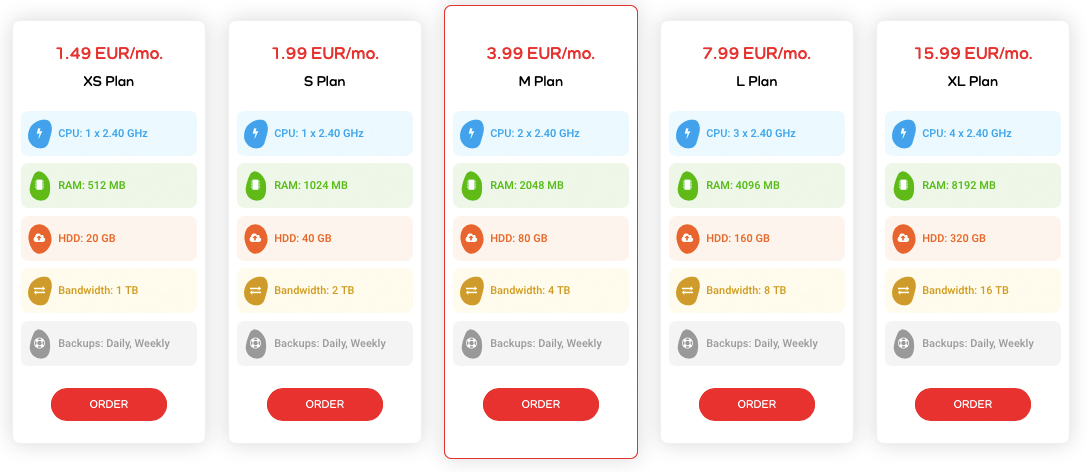 Recently, there is also a container plan, with the following lineup.
(There is also a higher spec menu)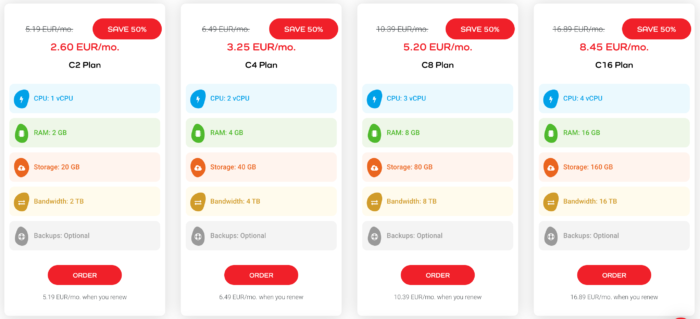 If you just want to run a blog, a container plan is sufficient.
The following plans are available, but if you are not familiar with the disadvantages of containers, you should have no problem choosing the cheaper container plan.
(Containers share the host's kernel, so they may not be flexible, but from the user space point of view, you don't have to worry about it because you don't have to be aware of it most of the time).
Linux plan: Allows you to use one VM (virtual server), OS is Linux
Windows Plan: Allows you to use one VM (virtual server), OS is Windows
Container Plan: Allows the use of one container, OS: Linux
Storage plan: Low performance, but large storage capacity
Reason 3: Stable operation
I have heard that some cheap VPSs have servers that sometimes go down, but Time4VPS has been running stably and has never had a server go down.
I have been using Time4VPS for 13 years, and I remember that the server has never been down.
I can say that they are highly reliable.
I can rent with peace of mind.
Reason 4: VPS located in Europe but with short (acceptable) latency
Since Time4VPS is a VPS provided by Lithuania, servers are located in Lithuania.
If most of the people accessing the servers are from Europe, there is no problem at all, but if the distance from Europe is too far, latency time will occur.
I live in Japan, and the distance between Lithuania and Japan is about 6,000 miles (8,550 km).
When I ping the Time4VPS server in Lithuania from Japan, the delay time was about "300ms" to "380ms".
[Ping test results from Japan]
PING blog.bnikka.com (xxx.xxx.xxx.xxx): 56 data bytes
64 bytes from xxx.xxx.xxx.xxx: icmp_seq=0 ttl=42 time=307.502 ms
64 bytes from xxx.xxx.xxx.xxx: icmp_seq=1 ttl=42 time=330.898 ms
64 bytes from xxx.xxx.xxx.xxx: icmp_seq=2 ttl=42 time=349.849 ms
64 bytes from xxx.xxx.xxx.xxx: icmp_seq=3 ttl=42 time=368.918 ms
The distance between Europe and the Americas is roughly 5,000 miles, so the delay time for people in the Americas to access would be smaller than the delay time from Japan mentioned above.
Latency is a serious issue when providing services such as games and currency trading, and should be taken into consideration, but for general Web sites and other applications, there is no problem at all.
Reason 5: Wide variety of installable operating systems
There is a wide variety of installable operating systems. The following operating systems can be installed.
Unless you are a pervert, you should be able to find an OS you want to use.
CentOS 6
CentOS 7
CentOS 8
Debian 8
Debian 9
Debian 10
Ubuntu 14.04
Ubuntu 16.04
Ubuntu 18.04
Ubuntu 20.04
cPanel/WHM + CentOS 7
Plesk + CentOS 7
DirectAdmin + CentOS 7
Webmin + CentOS 7
VestaCP + CentOS 7
ISPConfig + Debian 8
Cloudron + Ubuntu 18.04
VNC + CentOS 7
RDP + Ubuntu 18.04
Windows Server 2012
Windows Server 2016
Windows Server 2019
As of September 1, 2020
In addition to these, there are container VPSs and VPSs dedicated to storage.
Reason 6: Easy to use dashboard
The dashboard will be a frequently used function for installing the OS and checking the server status. As shown below, there is also a munin-like function to graphically display server status, which is easy to use.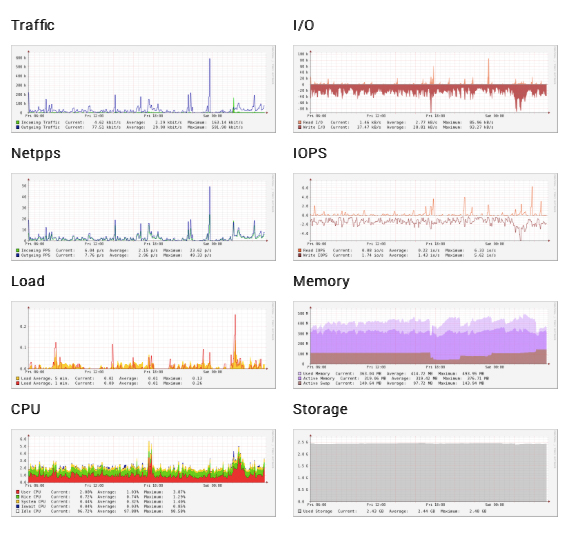 Time transitions of CPU utilization, memory utilization, etc. can be viewed from the dashboard, which can be useful for detecting problems such as memory leaks in programs under development.
Also, when providing Web services, the system can detect cases such as "memory capacity is running out" at an early stage, which is useful for planned provisioning.
Did you get the appeal of Time4VPS?
I hope you have enjoyed our introduction of Time4VPS, the world's cheapest VPS service.
I am sure that you have made the decision to rent a virtual machine or container.
If you sign up at the link below, you may get a small discount. Please give it a try.